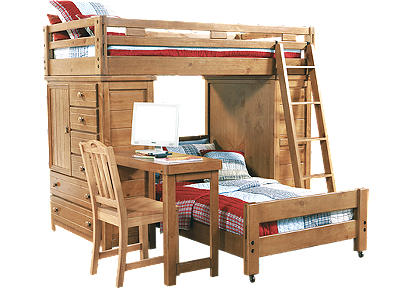 S
o has anyone out there faced a similiar dilemma? Please say yes, because I have to make an expensive decision which is going to drive me insane.
Nicolas would like a Bunk Bed for his birthday. I was sort of relieved to not have to buy him a trampoline, or any other toy to add to his already horrific collection. A nice bedroom set I thought would be great since his Kmart purchase two years ago is already coming apart, and will not make it through the next move. I guess I deserved that one trying to save some money in the wrong place. This time I want to buy something that will last straight through high school (if not longer). I assumed I would spend about $1k, but as luck may have it, the numbers are increasing with each visit to a furniture store.
At first I thought I would just buy him a bunk bed with a chest of drawers. It is then that we discovered the loft beds. Quite convenient if you ask me. Everything a child needs is packed into a small space. He can convert the bottom to a playhouse, or later turn the chest of drawers and desk around to have a more mature space underneath his bed. However, these things are quite overwhelming and will quickly take over a room. Good or bad? You would think these things are great for smaller rooms, but is it really true. I cannot get a feel for it in the furniture showrooms, since everything looks so large.
Nicolas has a small room 10x12ft. It has been hard for me to set up three pieces of furniture in his room. If I take the loft bed, I won't have to worry about that.
Then there is the question, whether or not to take the stairs or the ladder. If I take the stairs, I won't have to worry about the kids falling off. I also won't have to worry about making the bed, because I can use the stairs, and not climb up some ridiculous ladder. The beds with the ladder are not quite so big. However, the beds with the stairs don't need any clearance, and can be set right up against a wall. The beds with the ladders usually have a desk on one side and a chest of drawers on the other side requiring an extra 24" on both sides for clearance.
Whew!!!! This is just too big of a decision for me.