October 25, 2009
So, the stomach virus is over. We are back to our normal routine again. I am very glad that it was only a 24 hour bug. I think the kids got the message when I said to keep your fingers out of your mouth. Why is that? My son was the perfect eater, and now whenever I turn back he is shoving everything in his mouth with his hands? Do they do that just to see how fast our thermometer will rise? Yes, I am enjoying my weekend telling the kids the same thing over and over again. I finally did let my temper get away from me, and both of them are sitting inside their rooms for the next hour. Aaaah, quiet time.
It's amazing how I spend an entire day with them, doing arts and crafts, running around the yard, but when mommy says "I need to do a few things in the house" they go ballistic. I guess that means in toddlerese "Yeah, lets destroy the house, jump on the beds, and scream at each other." Oh, and lets not forget beat each other up and bully one another. However, I am now at ease writing on my blog, and laughing at myself for getting so frustrated. In truth, there are times when I feel like I am in jail, and yet, it really is all up to me, isn't it? Obviously, my son now realizes that I am serious when I say don't hit your sister twice. Three times was a charm, and I immediately knew that I could not ignore it any longer. I just don't like being so mean – especially when he apologizes. I guess when the punishment fits the crime, they do learn. Their lesson, and I will hopefully have a nice Sunday afternoon.
I have been working on a fleece pullover for Olivia. I would love to make the Farbenmix patterns, but they are still so big for her. It aggrevates me that everything in a size 2T or size 74 is for a baby. I want more options. I know that she is going to need this in the next few weeks, so I made my own pattern. I also got my Ottobre magazine. Love it. There are some nice patterns in there. Nothing for my kids, but I like a lot of the patterns, and hopefully ., The coat patterns are gorgeous.
So, this week I also went to World Market and enjoyed the massive german Christmas products they carry. I truly love being able to just enjoy some of my homeland chocolate and marzipan balls. I always buy the kids a german Christmas calendar. This years calendars are going to be great and large in size, which means that the chocolate surprises will be especially delicious
The only inspiration I was able to find this weekend. However, it was enough for me. I love her blog, and the fabric painting and beautiful applique designs she creates.
Beautiful Christmas idea. Seen here at Villa Valmanja.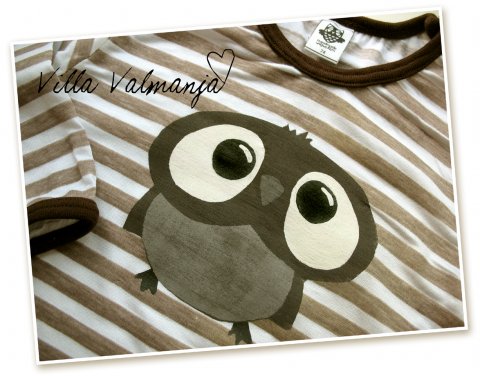 Another one of her beautiful drawings. Great accessory to a plan t-shirt or onesie.
I find some of her ideas so inspirational. So classic and elegant.